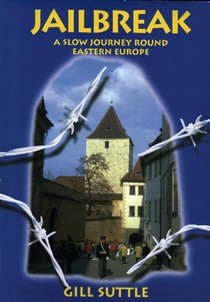 A former British modern pentathlon team member, three-day event rider and the first woman to win a full Oxford Blue for running, Gill Suttle found not just her sport but every significant part of her former life wiped out by the disabling condition ME (Myalgic Encephalomyelitis).
Some years on, she breaks out of the prison of illness by travelling, in a van complete with bed, to Eastern Europe. Sometimes exchanging the driving seat for the saddle, she enjoys some fascinating glimpses behind the scenes of eight former Communist countries struggling to throw off their recent past; and in the process manages to shed at least part of her own.
From the heights of Berlin's biggest big wheel in Europe to the depths of a Czech pothole... mummies in a Slovakian crypt to nudists on an Estonian beach... watching Polish wild beavers to eating Lithuanian elk... riding among Hungarian cowboys to midnight arrest by gun-toting Soviet-style police - this is a wide view of Eastern Europe at its best (and worst), as well as a personal journey.
Paperback: 182 pp
12 colour photographs
http://www.scimitarpress.co.uk/
©1998-2012 Scimitar Press