Extract 5 - Rep
From inside, the tamarisk grove was an enchanted place. As Rep searched out his favourite horses, pink fronds brushed our faces, blending with the pink cliffs above them. The occasional call of an unseen mare to an unseen foal drifted through the bushes, punctuating the steady crunch of teeth on grass.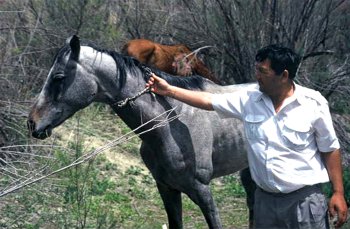 Rep with Gerakle
"This is Gerakle." ...The name sounded like a compound of two great steeplechasers, Arkle and Grakle, an idea which pleased Rep. "He won at the Hippodrome, and he's also been jumping."
"This is Arian. He's a grandson of Absent." The incomparable Absent, who had won a gold medal for dressage at the Rome Olympics, thus for the first time putting on the world map the Akhal-Teke, that obscure beast from Central Asia. Arian was palomino and, at close on seventeen hands, the tallest of his breed I ever saw.
"Four white feet, keep him all your life," I quoted to Rep, pointing to the four showy white legs. "Three white feet, give him to your wife, Two white feet, give him to your man, One white foot, sell him - if you can!" Clumsily, I translated "wife" as "woman", something which Rep would remind me of later.
...Kako, Rep's head lad, disappeared into the gloomy depths of one of the barns, to return with the best horse I had seen in Turkmenistan. He was jet-black, the colour that the Russians call voronoi - raven - and seemed to ripple over the ground with the lightness of a dancer, head high, every muscle of him conscious of his three-thousand-year lineage.
"He has won both his races," said Rep. "His name is Gagat. He is for sale, at two thousand dollars."
In the West, such a horse would have cost twenty times as much. My imagination began to run riot with fantastic ambitions. All perfectly vacuous. I would never get him out of the country, and I didn't even have two thousand dollars.
One by one, the horses were brought out by Kako or his brother, Shokhrat. "Khalach. Three wins. $1,500." A ravishing golden dun, the definitive colour of the Akhal-Teke. "Kizildon. Five wins. $2,000. Saparkhan, one run..."
Slowly, my tentative hopes sank again. Rep's interest in me was as a potential Western business associate. I was here only as a prospective buyer. Back to the drawing board. Nevertheless, I couldn't complain. It had been a wonderful afternoon.
I walked once more round inside the barn, taking a last look at the horses. When I came out into the sunlight, Kako was holding a horse I hadn't seen yet, brought from elsewhere. He was chestnut, golden as the sands of the Kara Kum, and he stood with his head high, neck curved so as to look right over his own back, scenting the horses in the barn.
"Will he do?" asked Rep.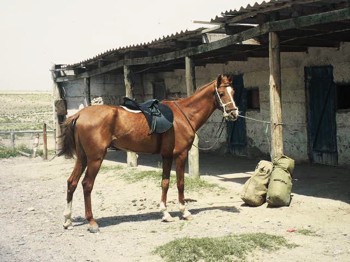 Atamekan
Introduction | Extracts | < | > | 1 | 2 | 3 | 4 | 5 | 6 | 7 | 8