(Fizz)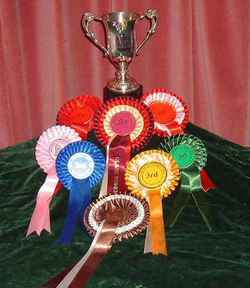 The 2005 Collection
Grey filly, born 2003, to make 14 – 14.2 hh, Arab x Akhal-Teke
by

CHATANZ
Grey Arab stallion, 15 hh GRADE 1A ARAB RACEHORSE
WINNER BRITISH BRED CHAMPIONSHIP RACE GOODWOOD 1995
ARAB HORSE SOCIETY GRADE A PREMIUM STALLION
NASTA GRADE 1 PERFORMANCE TESTED STALLION
ADVANCED ENDURANCE HORSE – EGB INTERMEDIATE TEAM 2002
ENDURANCE RACE WINNER - IN-HAND SHOW WINNER
Winner of the 2005 AHS Premium Scheme Leading Current Sire of Endurance Horses award, being only beaten by his sire Bonanza (overall winner).
For details of CHATANZ' numerous wins in Endurance, Showing, Dressage and Showjumping
see http://wh-arabians.co.uk
out of

Chestnut Akhal-Teke, 15.2 hh
by

Chestnut Akhal-Teke, 15.3 hh
GRADE I AKHAL-TEKE RACEHORSE
MARATHON ENDURANCE HORSE
WINNER SHOWJUMPING
An incomparably tough horse

Monmouth Show 2005

was shown in hand as a yearling, winning and being placed several times including the Monmouthshire Show, and qualifying for
THE ARAB HORSE SOCIETY PART-BRED IN-HAND CHAMPIONSHIP 2006
THE SOUTH-WEST PONY ASSOCIATION CHAMPIONSHIP 2006
She should mature into a horse capable of doing pretty well anything that might be asked of her, from dressage or eventing to pony racing. However, her greatest potential must be for Endurance Riding, at which she is bred to be International class.
While at Kyzyl Akhal-Tekes, she was trained along Natural Horsemanship lines, and proved an apt, intelligent and highly sensitive pupil. Having a completely bombproof temperament, made her much in demand on the yard: whether helping to train recent foals to box and travel, or leading older horses past the local Rottweiler!
(Firyuza was sold by Kyzyl Akhal-Tekes in 2006.)

---

Monmouth Show 2005


Congratulations to Roz Shepherd and Fizz
after Chepstow Show

At a few hours old
Fizz moves to Dorset
Ready for departure, with her uncle Teddy for company

Fizz newly arrived at the Dorset home of her new owner Annette Richardson, with stable companion Cracker over the fence and Teddy still chaperone
Registered with the Akhal-Teke Society of GB
and the Arab Horse Society