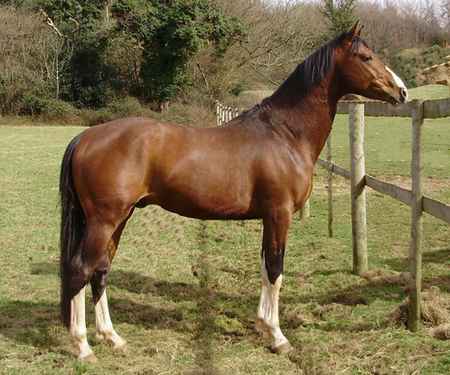 (Sam)
by Welton Double Cracker
out of

by Gaigysyz
Anglo-Teke*
born 6th June 2005
bay, 15.3 hh

A striking young stallion with an exciting and quite unique blend of the best of British Sporthorse and Russian breeding.
Kyzyl Double or Quits is *97% Anglo-Teke (TB x Akhal-Teke). He has a beautiful temperament and very correct movement. His bloodlines are full of courage, soundness, stamina and quality.
This young horse has just demonstrated his toughness and courage in overcoming Grass Sickness (www.grasssickness.org.uk), a devastating illness with a 95% mortality rate. Still too thin for a saddle, he is currently being briefly ridden out bareback. Sam's Grass Sickness Diary can be read here.
His young sire WELTON DOUBLE CRACKER (www.weltonhorses.co.uk) is rising through the British Eventing grades, and continues to be on the Pathway Project towards Olympics 2012. His grandsire DOUBLE TRIGGER (www.doubletrigger.co.uk) is one of the outstanding distance racehorses of the last quarter-century, winning two Ascot Gold Cups and £500,000 total prize money; while his grand-dam BABY WELTON is herself an Advanced Event Horse and is by the immortal WELTON CRACKERJACK.
September 2008
His dam

, an elite-graded mare from Russia's leading Stavropol Stud, never competed due to a head injury at two years. Her sire GAIGYSIS is the most prolific sire ever of Akhal-Teke breed champions (sire of two Russian champions and three world champions, grandsire of two Russian champions and five world champions).
Kyzyl Double or Quits was shown as a yearling by a 14-year-old girl, placing 3rd at the prestigious Welton Youngstock Show (beating the Young Sporthorse Champion of the Royal Welsh Winter Fair) and 3rd at the Monmouthshire Show (Sporthorse Breeding).
STUD FEE: £300 (NFFR)
Available by AI, or natural cover to approved mares.
Concessions available.
Enquiries: Please phone 01600 890730
or
*(the 3% unknown coming via Welton Gameful, foundation stallion of the most famous sporthorse dynasty ever)

September 2008
Kyzyl Double or Quits has commenced his stud career this year with a visit to Stallion AI Services, Twemlows Hall, where he has been trained to the dummy, collected from and his semen frozen. All checks showed good quality.
He has also been recently backed, and is going quietly in very basic work.
At the Ledbury Show, Eldersfield

August 2008
September 2008
Sam with Roz at Monmouth

2007