Geldy Kyarizov
posted 30th January 2012
updated 2nd February 2014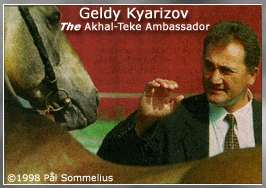 Geldy Kyarizov is a world expert on the Akhal-Teke, an ancient breed of horse native to Turkmenistan. Formerly the Horse Minister of Turkmenistan, Geldy was denounced by rival horse breeders and imprisoned in 2002. He nearly lost his life in the notorious concentration camp Ovadan Depe,and was released under a general amnesty in 2007. Much more detail is available on this website.
Since his release from prison, Geldy's situation has once again deteriorated.
He, his family and his house are under constant surveillance. He has repeatedly been harassed and threatened with re-arrest. Neither he nor his family are permitted to leave the country.
Worst of all, his entire herd of Akhal-Teke horses, comprising some of the best bloodstock in Turkmenistan and representing his life's work, has been taken away by the State.
Geldy was given an amnesty from his prison sentence in 2007. He returned to live quietly with his family, and continued the process of re-establishing his stable in new premises, since his original farm had been taken by the State and demolished to make way for building a factory. However, since then he has continued to be officially ostracised, and foreign breeders of Akhal-Teke horses are instructed not to see him when they come to Turkmenistan - even his old friends. His house is watched seven days a week. The surveillance has recently been stepped up, following attempts by foreign horse breeders to contact him. He is frequently taken in to the Police Station for "questioning"; this happened recently when he took his wife to visit her grandparents' grave, in a town near the border with Uzbekistan. Although his wife, sister-in-law and daughter have joint Russian nationality, all three are forbidden to leave the country. Last year his ten-year-old daughter, sent to visit relations in Moscow, was turned back at the airport.
In March 2010 the State confiscated his entire stock of horses. Geldy was warned not to tell anyone, and was threatened that he would be re-imprisoned if he did so. Inevitably, though, this has gradually become public knowledge.
These horses were kept alive for five years solely by public subscription from sympathisers around the world.
Geldy is one of the world's leading experts on the Akhal-Teke horse. An acknowledged ambassador for the breed, he has travelled internationally to address conferences and assess horses. He is the breeder of Yanardag, the horse he gifted to the President in 2001 and which became the National symbol of Turkmenistan, known by name to every schoolboy.
Geldy's extensive knowledge and experience, and the respect in which he is held by breeders across the world, make him a national asset in a country which holds the Akhal-Teke horse in deep reverence. However, Geldy's life in his homeland has narrowed to one of mere existence under 24-hour surveillance and punctuated by repeated arrests and threats to him and his family.
Geldy's story
26th October 2006
updated 28th January 2012
Geldy Kyarizov was arrested at the end of January 2002 on a string of charges, laid by a political rival. They included the theft of all his own horses - most of which he bred himself - the misappropriation of state money and the theft of a number of small items from Ashgabat Hippodrome. Threatened with torture, he appeared on state television admitting all charges. While awaiting trial he suffered a heart attack, complicated by pneumonia which persisted throughout his trial. His brother was allegedly tortured to persuade him to testify against Kyarizov. His entire stud was confiscated. The unnecessary death of six mares and a foal while at the Niazov State Stud is perhaps the bitterest blow of all to the man acknowledged worldwide as the leading expert on Akhal-Teke horses in his country, and probably in the world.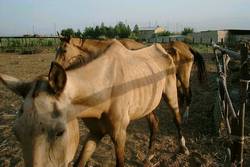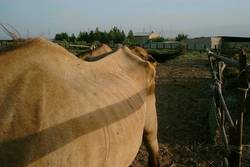 Two pictures showing the dreadful condition of some of Geldy's surviving horses
even one month after they had been returned from the state stud
At his trial in March 2003, Kyarizov was found innocent of all the original charges by the Turkmen court, but new charges were brought. Finally convicted on what amounted to administrative errors, he was sent to prison in Chardzhou, the hottest part of one of the hottest countries in the world, where his health rapidly declined, giving cause for great concern. Few were surprised when his Appeal failed, or when he was refused leave to attend the funeral of his father, who died in 2006.
Kyarizov was General Director of the Government organisation Turkmen Atlary - Turkmen Horses - a position giving him a place in the Cabinet of the former Soviet Republic headed at the time by the dictator President Niazov. Having taken the surname Turkmenbashy (Leader of the Turkmen people), Niazov was known as His Excellency President-For-Life Sapurmurat Turkmenbashy The Great. Events caused outrage among the worldwide community of Akhal-Teke breeders, many of whom have appealed directly to Niazov for Kyarizov's release.
Geldy's family lived in poverty and fear, constantly harassed by personal threats. While those horses which hadn't starved in government hands were returned to his family, the family were evicted from their land, their water supply having been disconnected before the eviction order was processed; to keep the horses alive, water had to be brought in by truck. The family appealed against eviction but were denied.
In October 2006, the family heard that, having been overlooked in previous years despite his failing health, Geldy would be released in the annual general amnesty granted by the president to mark the end of Ramadan. But when the amnesty came, Geldy's name was not on the list - and worse, he had been moved out of his normal prison to an undisclosed place.
December 2006 saw the death of President Niazov and international efforts to have Geldy released were reinforced, although just a week previously, his family had been informed that Geldy had died under torture. It was not until February that we learned he was still alive, albeit very weak and having lost a lot of weight. By then his farm was under demolition; it was temporarily halted after protest from British Embassy, the French Embassy, the German Embassy and the Romanian Embassy were lodged at the Turkmen Foreign Office but resumed on 10th March 2007. In February 2007, Amnesty International called for Geldy's release and his case was mentioned in Written Answers in the UK's House of Commons.
At last, in October 2007, came the news we had all been waiting for - Geldy was released to his family in the annual amnesty on 8th October. Initially Geldy made some faltering progress, however, over time, it became clear he would not be allowed to proceed unhindered. In March 2010 the new stud farm he had been developing was confiscated, along with all of his precious Akhal-Teke horses. Kyarizov and his wife allegedly are not allowed to work in Turkmenistan, nor are they permitted to leave the country.
Meanwhile, the new equestrian complex has been opened. Geldy's dream, and his tremendous effort of work, have been realised without him, while others claim the credit.
Sandra de Blois provided a detailed account of Geldy's situation while he was in prison - you can read it here.
In 2006, Sara Drake provided information on Human Rights in Turkmenistan, and on the condition of the jails there. You can read her articles via the Human Rights in Turkmenistan page.